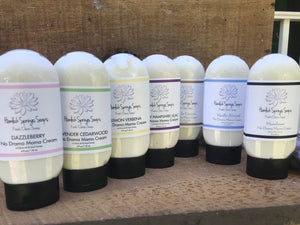 ***NEW FORMULATION***. Extra virgin olive oil, raw local honey combine in this rich, luxe cream. The secret ingredient? Apple cider vinegar! It is just as good for you on the outside as it is on the inside. Simple formula thanks to Patti Flynn (a hero in the soaper world!) is a winner with customers. I've made it on and off for several years, but it has been requested several times so it's being added to the line up! Available in a number of fragrance options in convenient (and recyclable 4oz tottles).
Made with distilled water, olive oil, emulsifiers, honey, vinegar and preservative (plus fragrance)
We're back to 4oz Tottles!!! Perfect for gifts and stockings.